You already know that 5S is NOT a clean-up program – it's actually a change event like any of the rapid improvement events, designed to produce Lean thinkers once team members have participated. 5S is actually a behavior modification program when done correctly, and toward that end, here's a tip for you to insure you get the most out of it.
During step two – the straightening/setup, tell the team to rearrange things so that anyone doing work at a station, DOES NOT HAVE TO MOVE THEIR FEET.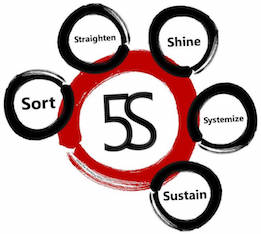 While this sounds simplistic, it's one of the "highly leveraged actions" you can exercise as a Lean expert implementer to gain maximum traction.
Think about it. Regardless of whether or not they can actually set up the work to do it without moving their feet, you will have installed pure Lean thinking directly into their psyche. The mere act of trying to get set up is enough to produce a Lean thinker right on the spot. No need to discuss the 8 wastes. No need to delve into any of the details as to why Lean is better than any other management technology or technique out there. It's a logical thing to do, and it works. Best of all, you've pierced their brain so deeply, they will think about ALL of their future work with this single goal in mind.
Yeah, it's that powerful. There's another secret to 5S too, that guarantees your teams will sustain the 5S work they do during the initial exercise, much more easily and enthusiastically than what you may have experienced in the past. So stay tuned for the next post to get that one. (Click Here to Read Part 2)