You already know that 5S is NOT a clean-up program – it's actually a change event like any of the rapid improvement events, designed to produce Lean thinkers once team members have participated. 5S is actually a behavior modification program when done correctly, and toward that end, here's a tip for you to insure you get the most out of it.
During step two – the straightening/setup, tell the team to rearrange things so that anyone doing work at a station, DOES NOT HAVE TO MOVE THEIR FEET.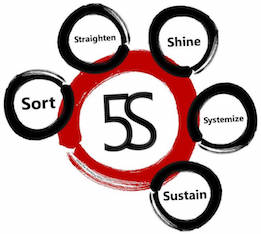 While this sounds simplistic, it's one of the "highly leveraged actions" you can exercise as a Lean expert implementer to gain maximum traction.
Think about it. Regardless of whether or not they can actually set up the work to do it without moving their feet, you will have installed pure Lean thinking directly into their psyche. The mere act of trying to get set up is enough to produce a Lean thinker right on the spot. No need to discuss the 8 wastes. No need to delve into any of the details as to why Lean is better than any other management technology or technique out there. It's a logical thing to do, and it works. Best of all, you've pierced their brain so deeply, they will think about ALL of their future work with this single goal in mind.
Yeah, it's that powerful. There's another secret to 5S too, that guarantees your teams will sustain the 5S work they do during the initial exercise, much more easily and enthusiastically than what you may have experienced in the past. So stay tuned for the next post to get that one. (Click Here to Read Part 2)
At the Lean Expert Academy, we specialize in elegant Lean implementations that are highly effective, and best of all, are extremely easy because we focus on minimal learnable actions. We're introducing a monthly newsletter jam-packed with tips just like this, that will go up for sale shortly. Look for that to be on our site, the LeanExpertAcademy.com later this week.
About Jim
I am the founder of the Lean Expert Academy and a previous partner in the Lean Leadership Institute with Jeff Liker (The Toyota Way), Paul Akers (2 Second Lean) and Norm Bodek (Productivity Press Founder). We train Lean consultants to implement the exact same methodology and techniques that you can learn here. I will be releasing my first book, Lean 2.0: How to Dominate Your Industry Using Lea(R)n Thinking very soon.
I believe the days of suboptimal results of command & control management models will be replaced within this decade, and you are a driver in that transition. I believe that we are at the tipping point of a new era, an era where everything that has the name "management" attached to it, will be done with Lean thinking and Lean management.
I know for a fact, after years of being deep in the trenches of making change happen, that implementing Lean is not that hard to do. It's actually quite easy if you follow the right steps, and my course shows you exactly how to achieve that outcome.
My goal and mission is to produce as many excellent Lean thinking leaders as possible – to arm you with the ability to recreate what I and my team of consultants have been doing consistently for many years. If you are serious about seeing Lean spread more quickly, please join me.